Kooroora Tennis Club enlists the Coaching Services of Evolve Tennis Academy. To book a class/squad online or view the weekly timetable simply click your desired program below or contact Facility Director Scott Fletcher on
02 9971 0644
(Note: High Performance Coaches Pricing may vary)
Please note: Prices vary slightly if booking in Semi, Tri or Quad Privates. For full pricing please email koorooratc@evolvetennisacademy.com
Shuttle Bus & Supervision
Evolve Tennis Academy offers a Shuttle Bus service from all the local schools around Kooroora.
To see a list of available pick up locations and days, please click the link above
Please be aware, there is limited spaces available and they fill fast – so get in quick.
Multi-Sport Holiday Camp Bookings
Our Multi-sport Camps are your number one destination on the Northern Beaches come the school holidays.
We cater for more children at Evolve Tennis Academy than any other location on the beaches and it comes as no surprise considering whats on offer.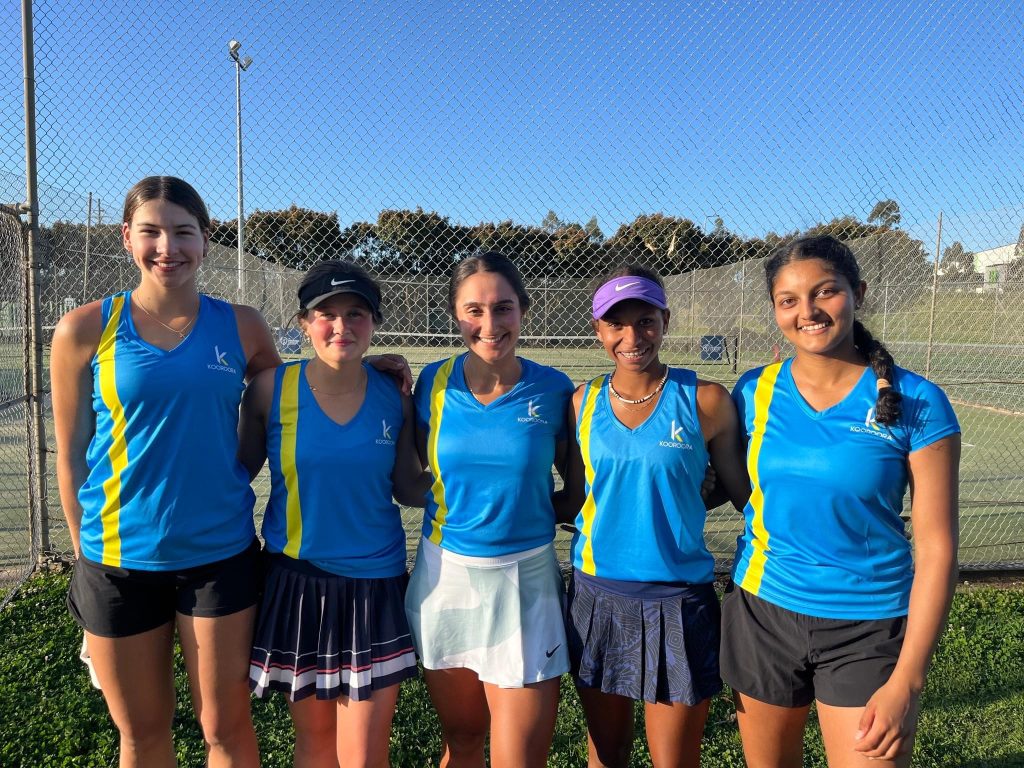 Kooroora Tennis Club Membership
The Club was formed in 1948. The name "Kooroora" means "happy meeting place" and was adopted by our founding members. Today's members still consider that to be a most appropriate name.
While Kooroora is all business when it comes to tennis we also firmly believe in providing the complete tennis experience for our members and visitors. To learn more about the Club and membership – Click link below…
Tennis Courts Kooroora provides a range of beautiful grass and synthetic turf courts for all types of players, from beginners to professionals. We also have a practice wall available for use by all members. Our courts are well-maintained and offer excellent playing conditions year-round.
We take great pride in our facilities and provide personalised instruction with experienced coaches to assist you in strengthening your skills while having fun! Tennis Courts Kooroora offers group lessons, private lessons, clinics, camps, and tournaments.
If you're looking for a good place to start or want to advance your game, come join us at Evolve Tennis Kooroora where we guarantee that you'll get the best experience possible! With us, it's not just about playing the game, it's about living the sport. So come join us today, and let's take your game to the next level!
Tennis Academy Kooroora
Evolve Tennis provides our members with a range of academy services to enhance their game. Whether you're looking for personalised lessons or need help improving your technique, we have the expertise and experience to ensure that you reach your maximum potential.
Our highly skilled coaches will provide tailored advice and instruction to ensure that every individual player can reach their goals. We also offer team coaching sessions which are designed to improve communication, strategy, and overall performance on the court.
We believe that our players should develop physically and mentally; this is why we offer psychological assessments, mindfulness workshops, and meditation classes as part of our academy program. Evolve Tennis aims to ensure everyone enjoys their time on the court while achieving their highest potential.
In addition to tennis lessons, we also provide fun activities such as mini-tennis games and family tournaments along with various monthly events that are sure to excite any player. You can even bring some friends along and enjoy a competitive match while snacking on some delicious snacks from our café located adjacent to the court. With everything in place, Evolve Tennis is the perfect destination for an enjoyable day out on the court.
Tennis Coaching Kooroora
Evolve Tennis at Tennis Courts Kooroora provides world-class coaching services to all of our players. Our coaches are knowledgeable, experienced and passionate about the game. They strive to provide our members with the best experience possible by offering personalised lessons which are tailored to each individual player's needs.
We have everything from adult tennis to peewee tennis coaching services. Whether you're a beginner or an advanced player, our coaches can provide friendly advice and instruction to help you reach your highest potential.
We also offer group classes for those who prefer a team environment where they can learn and practice together in a fun and supportive atmosphere. Regular drills, footwork exercises, and strategy sessions will help you strengthen your skills while having fun!
Our coaches use a variety of techniques such as video analysis, computer simulation drills, mental training sessions, and fitness programs to ensure that every player reaches their full potential on the court. With our unique coaching program, we guarantee that you'll get the most out of your tennis experience at Evolve Tennis Kooroora!
Private tennis coaching can make a significant difference in transforming you into the best athlete you can be. Private tennis coaching provides you with one-on-one attention from a highly skilled and experienced coach. They can assess your strengths, weaknesses, and individual playing style, tailoring the coaching sessions to address your specific needs. This personalised approach allows for targeted training and focused improvement, maximising your potential.
Unleash your potential in professional tennis with Evolve Tennis. At Evolve Tennis, we go beyond traditional tennis coaching. We offer a unique and immersive experience that guarantees to take your game to new heights. Prepare to immerse yourself in a world of tennis excellence, where your free time becomes a transformative journey of skill development, strategic play, and unparalleled coaching.
With our private tennis coaching sessions, you'll receive personalised instruction and expert guidance that caters specifically to your needs. Our highly skilled coaches will work closely with you, focusing on technique, strategy, fitness, and mental toughness. Whether you're a beginner aiming to grasp the fundamentals or an advanced player striving to refine your skills, our tailored coaching programs will help you unlock your full potential and achieve your tennis goals.
Tennis Holiday Camp Kooroora
Tennis is a mentally demanding sport, and private coaching addresses the psychological aspect of your game. Coaches can provide guidance on mental toughness, focus, and handling pressure situations. They can help you develop mental resilience, maintain a positive mindset, and overcome challenges on the court. Strengthening your mental game is crucial for consistent performance and success.
Looking for a fantastic tennis vacation? Look no further than our Tennis Holiday Camps at Evolve Tennis. Our camps are designed to provide you with a unique blend of tennis instruction and an unforgettable vacation experience. Whether you want to improve your technique, play better, meet new people, or simply have a great time, our tennis camps cater to your needs. Choose from a variety of packages and schedules that suit your preferences, allowing you to enjoy the perfect tennis getaway in Kooroora.
Evolve Tennis is the premier destination for tennis coaching in Kooroora. Our dedication to excellence, innovative teaching methods, and passion for the sport set us apart. We create an environment where adults can enjoy physical activity, socialise, and become active participants in their tennis journey. Experience the thrill of our engaging and effective coaching lessons, or embark on a tennis vacation like no other with our Tennis Holiday Camps.
Adult Tennis Lessons Kooroora
Tennis camps for adults can help you improve your game while having a fantastic tennis vacation. We provide a list of the top tennis camps at Evolve Tennis to accommodate all vacation schedules and ability levels. They are made to help you improve your technique, play better, stay active, meet new people, or have a wonderful time with the group you're travelling with.
You should first be aware that tennis camps are created with your needs in mind. You need to know how long your vacation will last, how many hours you want to play every day, what lodging you prefer, and which region you would like to visit. Armed with this knowledge, you can select from a wide range of tennis packages offered in various options and schedules perfect for your needs.
A private coach from Evolve Tennis serves as a mentor, motivator, and source of inspiration. Our team are invested in your success and provides the guidance and support you need to stay motivated and focused on your tennis journey. We will encourage you during challenging times, celebrate your achievements, and provide valuable insights to help you grow as an athlete.
Adult tennis camps are made to accommodate holidays of any duration, from long weekends to the full summer. The most popular tennis camp formats last two weeks and last two days. While developing the sport of tennis, we aim to offer adults a method of enjoyable physical activity. We foster a lively, entertaining environment where adults can socialise and become active.
Innovative lesson ideas that empower students to succeed at their own speed help to accomplish these goals. Your success depends on using clear and engaging instructional strategies. From the very first game in Evolve Tennis, you'll be rallying in no time.
Private tennis coaching can truly make a difference by accelerating your progress, refining your skills, and shaping you into a well-rounded athlete. Personalised attention, expert guidance, and tailored training programs can unlock your full potential and take your game to extraordinary levels. So if you are ready to transform the athlete in you, contact us today to book a coaching lesson or to check out schedules for your adult training camps.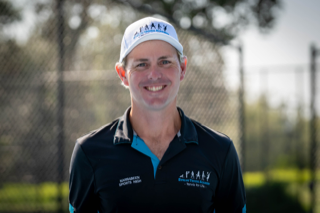 Director of Evolve Tennis Academy
Scott Fletcher comes as one of the most highly qualified Tennis Coaches in Australia. Predominantly working with hotshot players aged 8-12yrs old, Scott is one of very few coaches to hold a Master Professional Certification with ATPCA as well as Master Club Professional Certification with Tennis Australia.