Narrabeen Sports High has a proud history of success as a comprehensive, local, co-educational high school, catering for students in Years 7-12 located on the Northern Beaches of Sydney. The school also offers a selective sports program, 'The Academy' catering for students with sporting acumen who travel to the school from across the Northern Suburbs of Sydney. 
While the school is focused on maximising the academic success of all students, it has a better understanding of the demands of sports training and has developed a flexibility with regard to assessments that is particularly helpful to young athletes. 
At the commencement of 2018, Evolve Tennis Academy will bring their experience to the school tennis program, allowing serious tennis players the chance to study & play in a postive environment. Students will have the chance to add valuable court time to their weekly schedule whilst maintaining a normal educational pathway. We also offer a feeder program to all young aspiring tennis players interested in combining their chosen sport and study at The Academy, Narrabeen Sports High. 
Please continue reading below or for further information contact Evolve Coaching Director Scott Fletcher on 02 9971 0644
THE ACADEMY - Study & Play
The Narrabeen Sports High School Sports Academy is embedded into the framework and curriculum of Narrabeen and it is open to any student enrolled at the school. As the School is a Selective Sports High School it means that any student living in Northern Sydney may apply for enrolment.
The focus of the Sports Academy is to afford elite, and emerging elite, athletes an environment for academic and social development, whilst acknowledging, and assisting with the development of, the individual training and competition demands in a chosen sport. 
The Sports Academy operates in unison with the academic and social framework of the school curriculum, and it actively promotes the physical, social and educational value of sport in assisting with the development of a student. 
Head over to our FaceBook page at Narrabeen-Sports-High-Academy
To offer a high quality Study & Play environment where our students get the best of both worlds. A chance to build & mould their tennis game whilst maximising academic success.
There is no secret that court time is one of the most valuable assets for junior development. This is where an academic and sports program working in harmony can bring out the full potential of a player. The benefits created by this program are:
Court time during school hours (300+ hrs yearly)
Match Play
Fitness Testing 
Free Access & Support to Full Scaled Gym (On-site) 
Goal Setting
Nutrition & Body Management
CHS Tennis Pathway
Possibly the most enticing benefit is having the chance to combine education and tennis without interferring with after school hours. Thus allowing students and parents the freedom to pursue further squads, private coaching or afternoon activities from 3pm onwards.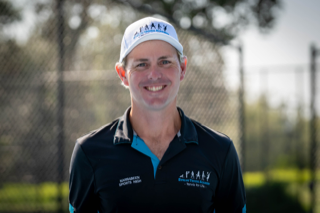 Director of Evolve Tennis Academy
Scott Fletcher comes as one of the most highly qualified Tennis Coaches in Australia. Predominantly working with hotshot players aged 8-12yrs old, Scott is one of very few coaches to hold a Master Professional Certification with ATPCA as well as Master Club Professional Certification with Tennis Australia.