Wyatt Park Tennis Centre is run by Evolve Tennis Academy. To book a class/squad online or view the weekly timetable simply click your desired program below or contact Facility Director Natan Duran on 0451-977-889
Shuttle Bus & Supervision
Wyatt Park Tennis Centre offers a Shuttle Bus service from all the local schools around Belrose, Frenchs Forest & Terry Hills. 
We offer before school drop off & after school pick up. Our before school program offers Qualified Tennis Coaching & breakfast (Breakfast Classes – $265), and our after school program lets the kids partipate in Hotshot classes or squads, with supervision till 5.30pm to save parents rushing for pick up. 
To see a list of available drop off / pick up locations and days, please click the link below
Please be aware, there is limited spaces available and they fill fast – so get in quick. Please note our afternoon supervision program at Wyatt Park Tennis will incur an additional $50 term fee (10wks) which is added directly to the invoice 
Multi-Sport Holiday Camp Bookings
Our Multi-sport Camps are your number one destination on the Northern Beaches come the school holidays.
We cater for more children at Evolve Tennis Academy than any other location on the beaches and it comes as no surprise considering whats on offer.
Wyatt Park New South Wales is home to a variety of wildlife, including kangaroos, koalas, wallabies, possums, and several species of birds. The park also has abundant plant life and is home to rare and threatened species such as the Corroboree Frog and Eastern Bristlebird.
Visitors can enjoy walking trails that meander through the park's woodlands, heaths, wetlands, and grassland habitats. These trails offer a range of experiences, from strolls to more challenging hikes. The park also has several picnic spots where visitors can relax and take in the scenery.
Wyatt Park New South Wales is also home to a variety of cultural events throughout the year, including music concerts and theatre performances. Visitors are welcome to explore the Aboriginal heritage sites within the park that tell stories about local Indigenous peoples.
The park is open all year round, with hours varying according to seasonality. Tennis is one of the most favourite sporting events in the area. The region is home to the Wyatt Park Tennis Club, where visitors can participate in friendly matches or competitions.
Tennis Academy Wyatt Park
Wyatt Park New South Wales is home to the Wyatt Park Tennis Academy, a facility dedicated to teaching tennis skills and providing quality recreational activities for people of all ages. The academy offers a range of services, including private and group lessons, drills, tournaments, and camps to help players improve their game. 
The academy's staff consists of experienced coaches that specialise in various age groups from beginners through advanced levels. It's an ideal learning environment with the latest equipment and courts available for practice or competitions. 
The academy is open all year round and offers an array of activities for everyone, from recreational players to professionals. It provides a fun and supportive atmosphere with plenty of opportunities to socialise and have a great time while improving your game.
Tennis Coaching Wyatt Park
Evolve Tennis Wyatt Park also offers a range of coaching services. It has experienced instructors specialising in different age groups, from beginners to advanced levels.
The experienced coaches will help students improve their game by teaching them the fundamentals such as proper footwork and strokes as well as tactics for singles and doubles play. The academy also provides individualised lessons to suit each student's goals and needs. 
Private lessons are available for those looking for intense one-on-one instruction. Group lessons are offered for people wanting to learn in a fun social atmosphere with others at the same level. Lastly, there is an array of camps available during the school holidays that focus on improving players' skills while having fun.
The park also offers a range of educational programs for school children, including wildlife lectures and guided walks. It also hosts community events such as art exhibitions and craft markets. There are plenty of opportunities for those interested in participating in the conservation efforts at Wyatt Park New South Wales.
Overall, Wyatt Park New South Wales, provides a unique setting for recharging from everyday life while enjoying its natural beauty and cultural offerings. With something to offer all ages, it's no wonder why this area has become one of New South Wales's most beloved parks.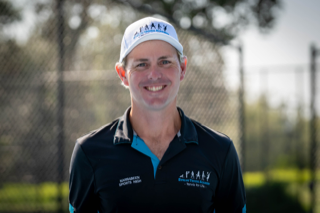 Director of Evolve Tennis Academy
Scott Fletcher comes as one of the most highly qualified Tennis Coaches in Australia. Predominantly working with hotshot players aged 8-12yrs old, Scott is one of very few coaches to hold a Master Professional Certification with ATPCA as well as Master Club Professional Certification with Tennis Australia.