Cardio Tennis Program Sydney
LOCATIONS THAT OFFER THIS PROGRAM
Unleash Your Energy: Experience Cardio Tennis at Evolve Tennis Academy in Sydney
At Evolve Tennis Academy, your aspirations take centre stage. Renowned as Northern Sydney's leading tennis destination, we are committed to fostering skills, passion, and community spirit. With a highly qualified coaching team and many tennis programs, including tennis coaching, court hire, and tennis competitions, we craft experiences that resonate with tennis enthusiasts across Sydney. Step into a world where every serve echoes our dedication, ensuring that your journey with tennis is nothing short of extraordinary.
Unlocking the Benefits of Cardio Tennis: A Game-Changer in Fitness
Cardio tennis at Evolve isn't just a workout; it's a transformative experience. Seamlessly blending rigorous cardio exercises with dynamic tennis drills, our sessions are designed to invigorate your spirit and elevate your fitness. A rhythmic medley of tennis and tunes enhances agility, coordination, and strength, inviting players of all skill levels to bask in the joy of a heart-pumping workout. In Sydney, we redefine cardio tennis, turning it into an engaging symphony of fitness and fun.
Boost Your Tennis Skills with Our Tennis Workout: Elevate Your Game
In our quest to augment your tennis journey, we introduce you to a unique tennis workout that promises more than just physical fitness. At Evolve, our workouts are meticulously crafted to enhance your tennis skills while ensuring a fulfilling cardio session. Our expert coaches guide you through exercises focusing on improving your serve, sharpening your groundstrokes, and refining your footwork. Here, each workout is a step towards mastering the court.
The Ultimate Tennis Fitness Program: Why Choose Us? 
Choosing Evolve Tennis Academy means opting for unparalleled expertise and a legacy of excellence. Our tennis fitness program stands out, credited to our seasoned coaches who bring over 200 years of combined experience to your service. With more level 3 tennis coaches than any other academy in Australia, our commitment is evident. We cater to every tennis aspiration, ensuring that from the initial serve to the triumphant rally, your journey is meticulously guided and passionately celebrated. Choose us to evolve into your best self on the court.
Our Cardio Tennis Drills: Fun, Effective, and Engaging- A Perfect Trio
We seamlessly blend rigorous cardio workouts with energetic tennis drills, creating an experience that's fun, effective, and absolutely engaging. Our cardio tennis sessions are meticulously crafted to enhance your agility, speed, and strength, all while grooving to your favourite tunes. Join a community of enthusiastic individuals who, just like you, seek a spirited workout. No matter your skill level, our qualified coaches curate sessions to cater to your needs, ensuring an exhilarating workout yet achievable.
Transform Your Game with Our Tennis Exercise Program: Evolution on Court
Our tennis exercise program is strategically designed to transform your game, invigorate your workouts, and unleash your full potential on the court. Our adept coaches employ a variety of dynamic drills that focus on improving your coordination and overall fitness. We offer tailored sessions that ensure measurable progress for players across all skill levels. Whether you're a beginner eager to break into the sport or an advanced player aspiring to elevate your gameplay, our program is the catalyst you need. Witness a remarkable transformation in your tennis skills, all while enjoying an energising workout.
Mastering Tennis Fitness: Tips and Tricks for Optimal Performance
Our seasoned coaches integrate a unique blend of strategies, ensuring you harness your energy effectively while on the court. From developing robust stamina to honing precise footwork, our tips are meticulously curated to elevate your game. Emphasising the perfect balance between strength and strategy, we ensure every player, regardless of their proficiency level, finds the guidance indispensable to their journey. With our arsenal of tips and tricks, mastering tennis fitness becomes an achievable feat.
What to Expect from a Session of Cardio Tennis in Sydney: A Guide
Engaging in a cardio tennis session at Evolve Tennis Academy promises an experience rich with energy, camaraderie, and sheer joy. In Sydney, we are a beacon for tennis enthusiasts seeking more than just a workout. Each session is a perfect concoction of high-octane tennis drills and energetic rhythms that keep you moving. Expect a welcoming environment where every serve and volley is met with cheers and encouragement. Our adept coaches ensure you're engaged, your heart rate is up, and your skills are sharpened. From beginners to seasoned players, every session celebrates tennis and fitness. So, step into the action and redefine what you expect from a cardio tennis session in Sydney.
Join Our Tennis Cardio Program: Where Fitness Meets Fun on Court
Experience the dynamic fusion of your favourite tunes with engaging tennis drills in our meticulously crafted cardio tennis program. Designed for everyone, our sessions are not just workouts but a celebration of energy, ensuring you break a sweat with a smile. Elevate your fitness journey in the vibrant atmosphere that our academy is famed for. 
Finding the Right Tennis Cardio Workout for You: A Personalised Approach
Deciding on the perfect cardio tennis workout can be challenging amidst the bustling urban landscape of Sydney. We simplify this quest by offering a diverse range of tennis cardio programs, each meticulously tailored to meet your fitness aspirations and skill level. From exhilarating cardio sessions that amplify your agility and strength to fun-filled drills that improve your coordination, we have something for everyone. With our expert guidance, find the right program that aligns with your goals, from staying active to mastering the art of tennis. 
Beginner to Advanced: Cardio Tennis for All Levels, Tailored for You
We take pride in offering inclusive cardio tennis programs that welcome enthusiasts of all levels. Whether taking your first swing or aiming to perfect your serve, our programs – from pee wee and hot shots for mini champions to competitive and adult programs – have you covered. We believe in nurturing talents at every stage. Our highly qualified coaches, armed with a collective 200+ years of experience, ensure that every session is a step towards mastering the game, regardless of your starting point. 
Tips for Maximising Your Cardio Tennis Experience: Making Every Swing Count
To ensure you get the most out of your cardio tennis sessions at us, consider these tips:
Be bold in expressing your goals, whether enhancing agility or simply staying fit. Our coaches tailor sessions to meet your objectives.

Embrace the community spirit. Tennis is not just a sport but a communal experience at Evolve.

Leverage our myriad offerings.
From footwork-specific training to wheelchair-accessible facilities, we ensure everyone finds rhythm on the court. Elevate your game, enjoy the camaraderie, and let every session be a stepping stone towards your fitness and tennis aspirations.
Embrace a New Fitness Journey: Get Started with Fitness Tennis Today!
Perfectly blending upbeat tennis drills with dynamic cardio workouts, our sessions are crafted to suit all skill levels. With the guidance of our highly qualified coaches, members enjoy an invigorating mix of exercise, tennis, and fun – all designed to fit into your bustling schedule. Our program is not just about refining your tennis skills; it's a holistic approach to fitness, offering you the chance to enhance agility, speed, and strength while embracing the lively spirit of tennis. Ready to switch up your fitness game? Get started with fitness tennis today at Evolve Tennis Academy!
Transform Your Game: Ready to Evolve? Contact Evolve Tennis Academy Now
Our qualified coaching team, boasting more level 3 tennis coaches than any other in Australia, is ready to guide you on your journey. From high-energy workouts to tailored tennis drills, we cater to over 2600 players weekly, all finding their rhythm in our inclusive, vibrant sessions. Reach out to us to book your spot and be part of our diverse tennis community. Whether it's our competitive program, pee wee classes, or adult sessions, there's something here for everyone. Don't just play. Evolve with us!
Curious Minds: FAQs – Everything You Need to Know About Cardio Tennis
Navigating the landscape of cardio tennis can spark numerous questions. Let's respond to frequently asked questions about our cardio tennis sessions, offering insights and details to facilitate your seamless entry into this lively and rewarding fitness journey. 
Do I Need Experience to Do Cardio Tennis?
Absolutely not! Evolve Tennis Academy welcomes enthusiasts of all skill levels to our cardio tennis sessions. Whether you're a seasoned player or picking up a racquet for the first time, our programs are tailored to meet you where you are. Our qualified coaches ensure that each session is inclusive and fun, allowing you to work up a sweat while enjoying the game. Experience or not, your journey towards mastering cardio tennis begins here.
What Are the Benefits of Cardio Tennis?
Cardio tennis at Evolve Tennis Academy is more than a workout—it's an exhilarating experience that offers myriad benefits. These sessions uniquely meld the excitement of tennis with rigorous cardio exercises, ensuring an all-rounded approach to fitness. Participants can expect a boost in their coordination, speed, agility, and strength. Moreover, it's a fantastic opportunity to connect with like-minded individuals, turning your fitness journey into a social and enjoyable endeavour. Elevate your well-being while revelling in the energetic ambience of our sessions. Join us and reap the multifaceted benefits of cardio tennis today!
Is Cardio Tennis a Good Way to Lose Weight?
Yes, Cardio Tennis is an excellent way to kickstart your weight loss journey. The high-energy sessions at Evolve Tennis Academy are designed to elevate your heart rate, promoting calorie burn and weight loss. It's an engaging alternative to traditional workouts, ensuring you stay committed while having fun on the court.
Take the Leap: Trust Evolve Tennis Academy with Your Fitness Journey
Embark on a transformative journey with Evolve Tennis Academy. Our dedication to quality, personalised care, and effective communication ensures a hassle-free and rewarding experience. Trust us to guide you every step of your cardio tennis journey. Don't wait any longer. Contact us and let your game evolve!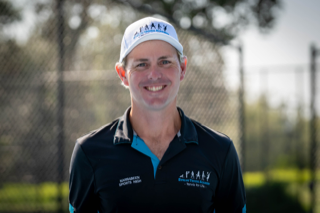 Director of Evolve Tennis Academy
Scott Fletcher comes as one of the most highly qualified Tennis Coaches in Australia. Predominantly working with hotshot players aged 8-12yrs old, Scott is one of very few coaches to hold a Master Professional Certification with ATPCA as well as Master Club Professional Certification with Tennis Australia.