We are your Number One Tennis Destination for Coaching, Court Hire, & Competitions in Northern Sydney, NSW Australia.
We are your Number One Tennis Destination for Coaching, Court Hire, & Competitions in Northern Sydney, NSW Australia.

Tennis is our Life at Evolve Tennis Academy, and this passion is evident amongst our Highly Qualified Coaching Team & support staff. Our team consists of more Level 3 Tennis Coaches than any other coaching business in Australia. So when you beccome part of the Evolve family, you can guarantee you are in Qualified hands.

We currently coach over 2600 players weekly, ranging from juniors competing at National level, National Veterans Champions and your grassroot Hotshots Champions. No matter what your tennis aspirations might be, we have a program for you.
Our Number One Goal here at Evolve Tennis Academy is simple – to provide a fun but competitive coaching atmosphere where everyone can reach their personal tennis milestones whilst enjoying arguably some of Sydneys best facilities.Quite simply, theres no better place to play tennis than with Evolve Tennis Academy…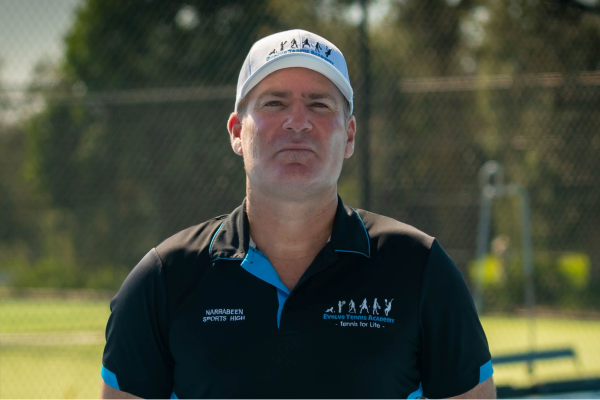 Evolve Tennis was founded in 2010 by Directors Scott Fletcher & Ryan Maloney. An extremely hardworking & enthusiastic partnership that operate tennis facilities & schools around Northern Sydney.

Their experience & qualifications are amongst some of the best in Australia and that is what sets them apart from the competition. Scott & Ryan both grew up on the Northern Beaches and played most of their junior tennis travelling around Australia, Asia & New Zealand. At the completion of high school Scott took up full time tennis predominantly on the Future & Challenger circuit in Europe, while Ryan chose the U.S. College system as a springboard for his future tennis. After several years on the circuit and college tour both Scott & Ryan began coaching full time, now sharing a combined 40+ years of experience & guidance.

They pride themselves on promoting & developing technically sound players from Grassroots to Seniors. At Evolve, tennis is not just a game- its our life passion.

Together with their outstanding team of coaches & support staff they focus on offering the best tennis coaching experience possible, whether you are picking up a racket for the very first time or you're heading for a National Ranking.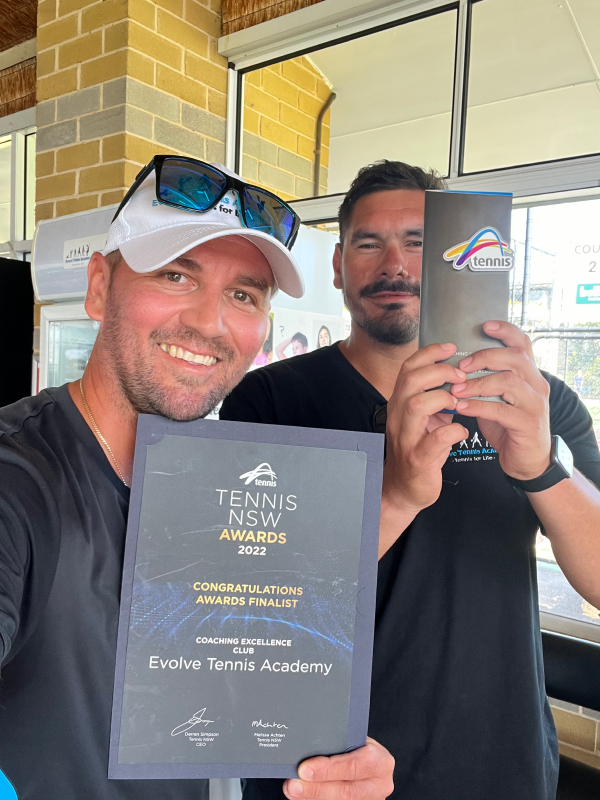 OUR PHILOSOPHY
Its no secret that success comes from focusing on what you do best. And as you will see above, our team has extensive Coaching & Playing Qualifications allowing us confidence to deliver a program that caters for all standards. We carefully hand pick each coach at Evolve, ensuring our clients only learn from the best. As a result, we believe this is what makes the difference when deciding on where you would like your game to Evolve.
OUR VALUES
'Tennis For Life' – a personal commitment to each & every player on & off the tennis court. Number 1 – we are a family at Evolve Tennis Academy
'Competitive' – competiting to your fullest is one of our core values. No matter the score or result, stay determined to compete. Learning to compete encourages strong work ethics
'Role Models' – we are on show so play by the rules. Outcome aside, integrity is important
'Team Work' – don't be selfish, push & strive as a team. Strong teams make strong individuals