LOCATIONS THAT OFFER THIS PROGRAM
Please Note: All Shuttle Bus Pick Ups for Northern Beaches locations must be booked via email evolvetennis@evolvetennisacademy.com Booking a class does not guarantee a position on the bus is available. Due to the high demand of the Shuttle Bus service, please be aware if capacity is reached we may not be able to guarantee your spot. If this occurs one of our friendly staff will be in contact with you
The Competitive Program is designed for all players progressing from Hotshots to a more competitive tennis environment. 

If you are serious about taking your tennis to the next level, Evolve Tennis Academy are the perfect people to give your game the personal attention it needs. We have years of experience getting players to the next level, and our dedication to that goal is unremitting.

Whilst browsing the options below, please understand that once kids reach the competitive stage in their development hours on court is of upmost importance.
As an indication, kids attending our High Performance Squads are playing on average six days a week – so if you're determined to lift or gain an AR/UTR/Seniors Ranking, court time should be your first priority. 
Squads are a vital step in the Evolve Pathway for all students moving onto and from the Green Ball stage. 
A combination of the below will enable the child's full court tennis skills to be further fine tuned, allowing for a quicker transition into our Performance Programs
Weekly Squad Training
Private Coaching
Fitness & Footwork sessions
Weekly Competition & Tournaments
Please be aware we have varying standards of Green Ball squads, from Beginner to Advanced. We highly recommend contacting Director of Coaching Scott Fletcher on 02 9971 0644 prior to making an online booking, just to ensure you are choosing the correct program, and to check alternate options available. 
For days and times please click your nearest venue below
Representational & High Performance Squads
Our Representational & High Performance Squads at Evolve Tennis Academy are for all players serious at improving or gaining their TA/UTR Ranking. We expect all players in these squads to be competing in State, National & Seniors Tournaments, and training atleast 4 days per week. 

The Squad structure across all venues is managed by Evolve Director Ryan Maloney & High Performance Director Matt Barton, who ensure all coaches provide the high performance environment necessary to allow our athletes the best possible chance of reaching their personal tennis aspirations. 
 
Advantages of the Program
Training with like minded players intent on making tennis their chosen sport
Direct Coaching & Guidance by Evolve Head Coaches
Weekly Fitness Training with former ATP Pro Matt Barton
Tournament & Competition viewing 
Tactical workshops
Nutritional workshops
Practice sessions with the best coaches & current top players on the Northern Beaches
Vast Knowledge of the game from former ATP Top 200 Pro – Matt Barton

Criteria for Acceptance
Extremely high work ethic on & off court
Understand the purpose of the team environment and pushing through boundaries together 
An end Goal of improving/gaining AR/UTR/Seniors Ranking
Team player amongst both your peers & coaches
Compete in State/National/Senior tournaments on a consistent basis 
Willingness to listen & learn from Coaches & Support Staff who have first hand experience 
TA Ranking & TNB Ranking used for all benchmarking of players
 
In Addtion
For juniors totally devoted to their tennis, and interested in adding valuable court time to their training program, we highly recommend 'The Academy' study & play program at Narrabeen Sports High. 

For more information on this program contact Coaching Director Scott Fletcher on 02 9971 0644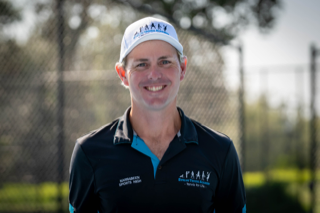 Director of Evolve Tennis Academy
Scott Fletcher comes as one of the most highly qualified Tennis Coaches in Australia. Predominantly working with hotshot players aged 8-12yrs old, Scott is one of very few coaches to hold a Master Professional Certification with ATPCA as well as Master Club Professional Certification with Tennis Australia.