LOCATIONS THAT OFFER THIS PROGRAM
Please Note: All Shuttle Bus Pick Ups for Northern Beaches locations must be booked via email evolvetennis@evolvetennisacademy.com Booking a class does not guarantee a position on the bus is available. Due to the high demand of the Shuttle Bus service, please be aware if capacity is reached we may not be able to guarantee your spot. If this occurs one of our friendly staff will be in contact with you
Tennis competitions provide several advantages besides only the enjoyment of the sport. They provide you with a chance to challenge yourself against various opponents and put your abilities to the test. You can enhance your shot selection, skill, and strategic thinking by competing frequently. Your skill development can be accelerated, and you can improve your game to new heights thanks to the pressure and ferocity of a competitive encounter.
Tennis contests provide a holistic experience that combines social, mental, and physical advantages. Tennis contests offer opportunities for personal development, talent improvement, and an all-around rewarding experience whether you're a casual player or a dedicated competitor.
The tennis community in Sydney is thriving, and Evolve Tennis is at the forefront of providing outstanding tennis competitions there. We offer the ideal platform for tennis fans to demonstrate their abilities, engage in friendly competition, and experience the thrill of competitive tennis, thanks to our years of experience in planning and presenting top-notch tournaments.
Tennis Comps Northern Beaches
Tennis competitions require mental fortitude and the ability to cope under pressure. Participating in tournaments helps you improve your ability to manage your emotions, stay focused, and make split-second decisions. These interactions help you develop mental toughness, which will help you on the court as well as in other areas of your life to overcome challenges and remain composed under pressure.
Evolve Tennis, a tennis competition hub with locations on the Northern Beaches, has become well-known in the professional tennis coaching industry. We have earned a solid reputation in the area because of our dedication to providing top-notch professional teaching services, fun tennis summer camps, and exciting tennis events. Our tournaments on the Northern Beaches have divisions and categories for players of all ages and ability levels, so it doesn't matter if you're an experienced player or you're just getting started.
Social Tennis Competitions Sydney
Tennis competitions promote sportsmanship and fair play. Whether you win or lose, you learn to respect your opponents, follow the rules, and display good sportsmanship. Competing in a respectful and honourable manner builds character, teaches humility, and fosters a sense of integrity both on and off the court.
For those seeking a more social and relaxed atmosphere, our social tennis competitions in Sydney provide the perfect opportunity to play, connect with other players, and have fun on the court. Whether you're looking to meet new tennis enthusiasts, enjoy friendly matches, or simply unwind after a long day, our social tennis competitions offer a welcoming environment where camaraderie and sportsmanship thrive. Join us and experience the joy of tennis in a social setting that celebrates the love of the game.
Junior Tennis Competitions Sydney
Competing in tennis tournaments allows you to set goals and work towards them. Whether it's improving your ranking, winning a specific match, or achieving a personal best, having tangible goals provides motivation and a sense of purpose. The pursuit of these goals keeps you driven and focused on continuous improvement.
At Evolve Tennis, we are dedicated to developing the next generation of tennis champions. Young players can display their talents, compete against peers, and get crucial tournament experience at our junior tennis championships in Sydney. Our junior events encourage healthy competition, personal development, and a love for the sport by providing divisions and categories that are targeted to various age groups and skill levels. 
Watching tennis matches is a fun and thrilling activity. The excitement of competing, the adrenaline rush during nail-biting matches, and the joy of seeing your hard effort pay off make tournaments a profoundly satisfying and unforgettable experience. Tennis contests can rekindle your passion for the sport and keep you playing for years to come. Tennis competitions are fun and exciting.
Join us and witness the next generation of tennis stars shine on the courts of Sydney.
Join Evolve Tennis Competitions in Sydney
Whether you're a seasoned player, a social tennis enthusiast, or a young talent, Evolve Tennis offers a range of competitions to suit your interests and aspirations. Our experienced team is dedicated to organising well-structured tournaments that adhere to the highest standards of professionalism and fairness. With a focus on creating a positive and engaging atmosphere, our competitions provide the perfect platform to test your skills, push your limits, and enjoy the thrill of competitive tennis.
Join us at Evolve Tennis in Sydney and be part of a tennis community that celebrates the love of the game. Whether you're looking to compete, socialise, or nurture young talent, our competitions offer an unforgettable experience on and off the court. Contact us today to learn more about our upcoming tournaments and be prepared for an exhilarating journey of tennis competition in Sydney's vibrant tennis scene.
The Competitive Program is designed for all players progressing from Hotshots to a more competitive tennis environment. 
If you are serious about taking your tennis to the next level, Evolve Tennis Academy are the perfect people to give your game the personal attention it needs. We have years of experience getting players to the next level, and our dedication to that goal is unremitting.
Whilst browsing the options below, please understand that once kids reach the competitive stage in their development hours on court is of upmost importance.

As an indication, kids attending our High Performance Squads are playing on average six days a week – so if you're determined to lift or gain an AR/UTR/Seniors Ranking, court time should be your first priority. 
Squads are a vital step in the Evolve Pathway for all students moving onto and from the Green Ball stage. 

A combination of the below will enable the child's full court tennis skills to be further fine tuned, allowing for a quicker transition into our Performance Programs
Please be aware we have varying standards of Green Ball squads, from Beginner to Advanced. We highly recommend contacting Director of Coaching Scott Fletcher on 02 9971 0644 prior to making an online booking, just to ensure you are choosing the correct program, and to check alternate options available. 
For days and times please click your nearest venue below
Representational & High Performance Squads
Our Representational & High Performance Squads at Evolve Tennis Academy are for all players serious at improving or gaining their TA/UTR Ranking. We expect all players in these squads to be competing in State, National & Seniors Tournaments, and training atleast 4 days per week. 

The Squad structure across all venues is managed by Evolve Director Ryan Maloney & High Performance Director Matt Barton, who ensure all coaches provide the high performance environment necessary to allow our athletes the best possible chance of reaching their personal tennis aspirations. 
 
Advantages of the Program
Training with like minded players intent on making tennis their chosen sport
Direct Coaching & Guidance by Evolve Head Coaches
Weekly Fitness Training with former ATP Pro Matt Barton
Tournament & Competition viewing 
Tactical workshops
Nutritional workshops
Practice sessions with the best coaches & current top players on the Northern Beaches
Vast Knowledge of the game from former ATP Top 200 Pro – Matt Barton

Criteria for Acceptance
Extremely high work ethic on & off court
Understand the purpose of the team environment and pushing through boundaries together 
An end Goal of improving/gaining AR/UTR/Seniors Ranking
Team player amongst both your peers & coaches
Compete in State/National/Senior tournaments on a consistent basis 
Willingness to listen & learn from Coaches & Support Staff who have first hand experience 
TA Ranking & TNB Ranking used for all benchmarking of players
 
In Addtion
For juniors totally devoted to their tennis, and interested in adding valuable court time to their training program, we highly recommend 'The Academy' study & play program at Narrabeen Sports High. 

For more information on this program contact Coaching Director Scott Fletcher on 02 9971 0644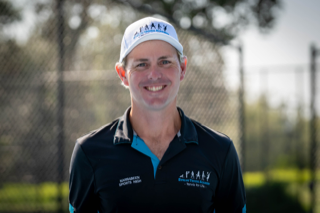 Director of Evolve Tennis Academy
Scott Fletcher comes as one of the most highly qualified Tennis Coaches in Australia. Predominantly working with hotshot players aged 8-12yrs old, Scott is one of very few coaches to hold a Master Professional Certification with ATPCA as well as Master Club Professional Certification with Tennis Australia.