COLLAROY TENNIS COURT HIRE
Collaroy Tennis Club enlists the Coaching Services of Evolve Tennis Academy. To book a class/squad online or view the weekly timetable simply click your desired program below or contact Coaching Director Scott Fletcher on 02 9971 0644
Specifically designed group lesson where play is on the hard court that has been newly adapted for wheelchair access.
(Note: High Performance Coaches Pricing may vary)
Shuttle Bus & Supervision
Collaroy Tennis Club offers a Shuttle Bus service from all the local schools around Collaroy, Freshwater, Dee Why, Beacon Hill, Narrabeen and more.

We pick up at the end of the school day and drive the students to the Tennis Club, where they partipate in Hotshot classes or squads. Supervision is also available till 6pm to save parents rushing for pick up.

To see a list of available pick up locations and days, please click the link below
Please be aware, there is limited spaces available and they fill fast – so get in quick.
Multi-Sport Holiday Camp Bookings
Our Multi-sport Camps are your number one destination on the Northern Beaches come the school holidays.
We cater for more children at Evolve Tennis Academy than any other location on the beaches and it comes as no surprise considering whats on offer.
Collaroy Tennis Club Membership
Collaroy Tennis Club was founded as a competition level club and has a strong representation in the local competitions. We also have a strong group of social members who play on Saturday afternoons in our round robin.

We welcome new members who are of a medium comp standard – adult and junior. We are particularly interested in increasing our junior numbers and encourage young comp players to enquire about joining.

Every Saturday afternoon club members can play tennis for several hours, then finish off with a cold refreshment. We start the round robin from 2pm and you can join us anytime after that.

We currently have club members participating in various competitions including Monday night ladies, Wednesday ladies, Saturday afternoon Badge and social groups of various levels who play during club times. The coaches also have a large group of juniors who play in the Saturday morning junior comp and various HotShot competitions.

As a pre-requisite to membership, once you've applied for membership, we'll invite you to join us on a Saturday afternoon for a trial (dates will be determined by the selectors). This is in the form of a social round robin so that we can meet you and you can meet us.
Tennis Courts Collaroy
Collaroy is loved and enjoyed by many because of its stunning beaches. Collaroy Beach is a surf beach that adjoins Narrabeen Beach forming a long stretch of coast. Collaroy Beach also forms part of an accessibility precinct that includes an all-abilities playground and access to a FreeWheeler, which provides wheelchair access onto the sand and the surf.
There is a strong sense of community in Collaroy. The neighborhood is friendly, and the streets are secure. In addition to having parks, schools, and other amenities, the area is a great spot for families to live.
Collaroy is also home to the Collaroy Tennis Club where there are 6 Championship Sized Tennis Courts (5 Synthetic Grass + 1 Cushioned Acrylic). Collaroy Tennis Club provides a shuttle bus service to and from all nearby schools in Collaroy, Freshwater, Dee Why, Beacon Hill, Narrabeen, and other areas.
For fun and entertaining tennis training programs, Collaroy would be a perfect destination for both the young and old. With Evolve Tennis, you can meet new people, harness your skills in tennis and enjoy at the Collaroy tennis court all at the same time.
Collaroy Tennis Coaching
A coaching tennis academy, Evolve Tennis focuses on tennis programs, training videos, services, and resources to help kids and adults improve their tennis skills.
Our coaching services, training programs, and camps are designed to help players, coaches, parents, clubs, and federations evolve for the future by achieving higher performance results. To properly plan, carry out, and achieve remarkable achievements, leaders and coaches must strengthen their skills.
Tennis players who are dedicated to developing their game can profit from our tutoring. To assist you in keeping up your game improvement, we provide three coaching choices.
You'll pick things up more quickly, team captains will want you on their team, and you'll be more likely to practice more regularly, which will help speed up your rate of growth.
With the use of our technique analysis services throughout our coaching and training programs here at Evolve Tennis, you may hasten the process of improving your strokes.
Collaroy Tennis Academy 
Tennis matches call for a variety of skills from the players. Rapid reflexes are necessary for reflex volleys, high backhand ground strokes or volleys call for shoulder strength in addition to other muscle groups, and sufficient stamina is needed for long games or points.
To succeed, you must also ascertain your rival's tactical, technological, and physical advantages and weaknesses.
As you might anticipate, this process requires some time. Learning how to properly videotape clients and mastering a difficult sports analysis application are obstacles that many individuals encounter.
The coach has additional explanations for passing up this opportunity, in addition to the time commitment and the expense of the expensive hardware and premium software.
Tennis instruction and private coaching are available through Evolve Tennis. Private and group lessons are open to students of all ages and skill levels. Tennis biomechanics enhancements, singles and doubles training, and improved playing styles are some of our specializations.
Evolve Tennis, a business that can plan for and support the tennis training needs of every member of the Collaroy tennis community, offers private tennis teaching and training for players of all ages and skill levels.
As you make new friends and interact with other tennis enthusiasts, improve your game or just study the sport. To begin your tennis experience, get in touch with Evolve Tennis.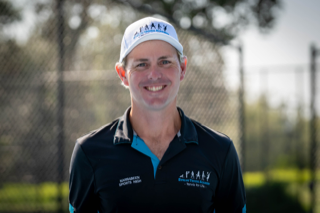 Director of Evolve Tennis Academy
Scott Fletcher comes as one of the most highly qualified Tennis Coaches in Australia. Predominantly working with hotshot players aged 8-12yrs old, Scott is one of very few coaches to hold a Master Professional Certification with ATPCA as well as Master Club Professional Certification with Tennis Australia.