Wheelchair | Special Needs Tennis
The Northern Beaches Only True Blue Plexi-cushion Tennis Court

Evolve Tennis Academy offer the only Wheelchair Tennis facility on the Northern Beaches. Headed by TA Qualified Wheelchair Development Coach – Paula Gibson Roy.
Group classes or individual private tution is available. 

With the recent addition of a wheelchair ramp and on site sports wheelchairs, you can also hire a court, hire a sports wheelchair and balls to hit with family and friends anytime. 
Simply contact the Pro Shop to arrange on (02)9971-0644 or Paula 0403 347 898
 
Championship Sized Plexi-Cushion Hard Court
 
Floodlit 
 
Wheelchair Friendly & Accessible 
 
Clubhouse with Change-rooms / Showers 
 
On-site Parking
Wheelchair | Special Needs Tennis Classes
Wheelchair tennis is a one of Australia's fastest growing, high-energy sports requiring concentration, fitness and skill. The game follows traditional tennis rules, with the only exception being that a player is allowed two bounces of the ball.
Evolve Tennis Academy in conjuction with Sargood Collaroy are now offering a first of its kind on the Northern Beaches of Sydney – Wheelchair Tennis classes and private tution. Headed by TA Qualified Wheelchair Development Coach – Paula Gibson-Roy 
Also on offer at the Academy is special needs tennis classes for children aged 5-9yrs on Wednesday afternoons 4.15-5pm. 
For more information and available times click links above or contact our Head of Evolve Wheelchair | Special Needs Sports Paula 0403 347 898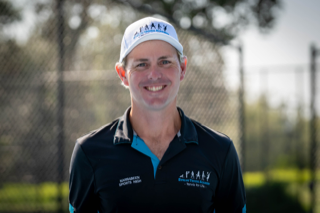 Director of Evolve Tennis Academy
Scott Fletcher comes as one of the most highly qualified Tennis Coaches in Australia. Predominantly working with hotshot players aged 8-12yrs old, Scott is one of very few coaches to hold a Master Professional Certification with ATPCA as well as Master Club Professional Certification with Tennis Australia.