Adult Tennis Lessons Sydney
LOCATIONS THAT OFFER THIS PROGRAM
We have a large diverse range of Adult Programs on offer at Evolve Tennis Academy, something to suit all standards of play.

Whether you're looking for a weekly social group, or a Cardio Tennis Class designed to get your heart rate up, we have you covered. For more information regarding our Adult Programs, simply scroll down below.
All classes and locations can booked online below, alternatively for more information contact our Head Office on (02)9971-0644, Coaching Director Scott Fletcher on 02 9971 0644 or email evolvetennis@evolvetennisacademy.com
ADULT COACH & PLAY HOLIDAY CAMPS
RISING SUN SESSIONS
Intense Sessions of Drills, Game-based Drills, and Technique 
Collaroy Tennis Club
7am – 8.30am (90min sessions)
Singular or mutliple day bookings available
Aimed at Beginner to Advanced Adults who miss their weekly routine during School Holidays… max 4 people per court
(Note: Rising Sun Sessions are only available by booking online via links)
Cardio Tennis is a tennis workout program catering to all fitness levels. Bringing together a variety of cardio workouts, a range of fun tennis drills, all to a high-energy soundtrack. The program is focused on leading a healthy, fun and Cardio lifestyle.
Ladies Pro-Am 
50/50 mixture of technical coaching & match play with a Coach.
Great for first time & intermediate players.
 
Ladies Coach & Play 
50/50 mixture of technical coaching & match play (singles & doubles). Great for first time & intermediate players.
 
Adult Squads
90mins of Drills, Game-based Drills, and Technique. 
 
Adult Coaching Clinics 
full session focused on Technique & Gameplay. Great for the beginner / interermediate players wanting to improve their game.
For all prices and duration of clases, please click your nearest venue below. More information – contact our Head Office (02)9971-0644 or Coaching Director Scott Fletcher on 02 9971 0644
IN-HOUSE & LOCAL ASSOCIATION COMPETITIONS
Thursday Social Tennis 
Social tennis with varying standards
Price: $10.00 per session
Location: Careel Bay Tennis Club
Time: 9am to 11.30am Every Thursday 
SATURDAY BADGE COMPETITION 
4 Men or 4 Women – 8 sets of Doubles 
Summer & Winter Compeitions, prices vary depending on length of Comp
Location- Kooroora Tennis Club, Careel Bay & Collaroy Tennis Club 
There is a large range of Competitions available across our sites that run via the Associations. To enter into any one of the competitions above simply email evolvetennis@evolvetennisacademy.com or contact Coaching Director Scott Fletcher on 1300 295 115
Adult Tennis Lessons Sydney
One of the few tennis facilities in the world, Evolve Tennis offers you the same level of tennis instruction and professional coaching that professional players receive.
What started out as a straightforward tennis academy has evolved into a location renowned all over the world for tennis instruction and development.
Your free time won't just be a few peaceful hours of tennis practice or an occasional private session. You can improve your game at Evolve Tennis, prepare for the forthcoming tennis league season, and strive to be at the top of your lineup.
At Evolve Tennis Academy, we offer a wide variety of Adult Programs that can accommodate players of all skill levels. We have everything you're searching for, whether it's a weekly social group or a Cardio Tennis Class that raises your heart rate.
Whether you are a beginner or someone who has tennis training before, Evolve Tennis is a good place to start learning more about the sport again.
Beginner Tennis Lessons for Adults
Tennis beginners will learn how to grip the racquet correctly, will be taught the fundamental technical checkpoints for each major shot, and will concentrate on developing the abilities to construct a gentle rally with their coach from a close distance.
The principles of the game are taught to players, along with how to execute forehands, backhands, volleys, and serves with good technique. We assist players in putting the ball into play and learning the fundamentals of the game. Tennis is a great way to make new friends, pick up new abilities, and have fun.
Evolve Tennis also offers intermediate lessons for young teens and adults. This session develops the game's fundamentals for players who are new to the game or have progressed from the novice level. This complements our clinics and seminars perfectly because it emphasizes the growth of stroke and point play.
Meanwhile, our advanced lessons focus on the development of complete tournament players focusing on high-level point play coaching and play patterns. Specific aspects for doubles, footwork, conditioning, strategy and match-like scenarios are all included in the fast-paced workouts.
Adult Tennis Camps
Tennis camps for adults can help you improve your game while having a fantastic tennis vacation. We provide a list of the top tennis camps at Evolve Tennis to accommodate all vacation schedules and ability levels. They are made to help you improve your technique, play better, stay active, meet new people, or have a wonderful time with the group you're traveling with.
You should first be aware that tennis camps are created with your needs in mind. You need to know how long your vacation will last, how many hours you want to play every day, what lodging you prefer, and which region you would like to visit. Armed with this knowledge, you can select from a wide range of tennis packages offered in various options and schedules perfect for your needs.
Adult tennis camps are made to accommodate holidays of any duration, from long weekends to the full summer. The most popular tennis camp formats last two weeks and last two days.
Tennis Coaching For Adults
Adult tennis programs are offered by Evolve Tennis and are of the highest caliber. Adults at the beginning, intermediate, and advanced levels can take tennis lessons from us.
Classes can be scheduled throughout the day, evening, or on the weekends with a minimum of four and a maximum of eight participants. Adults who have attended prior classes are given preference.
While developing the sport of tennis, we aim to offer adults a method of enjoyable physical activity. We foster a lively, entertaining environment where adults can socialize and become active.
Innovative lesson ideas that empower students to succeed at their own speed help to accomplish these goals. Your success depends on using clear and engaging instructional strategies. From the very first game in Evolve Tennis, you'll be rallying in no time.
Contact us today to book a coaching lesson or to check out schedules for your adult training camps.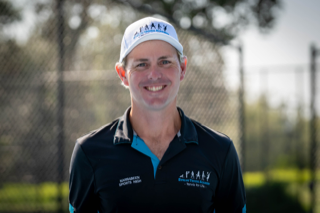 Director of Evolve Tennis Academy
Scott Fletcher comes as one of the most highly qualified Tennis Coaches in Australia. Predominantly working with hotshot players aged 8-12yrs old, Scott is one of very few coaches to hold a Master Professional Certification with ATPCA as well as Master Club Professional Certification with Tennis Australia.