COMPETITIONS & TOURNAMENTS
LOCATIONS THAT OFFER THIS PROGRAM
convenient NORTHERN SYDNEY locations
Learning how to play is only one step in the journey, the next step is putting those learnt skills into competitive practice. Here at Evolve Tennis Academy we offer a wide range of weekly competitions for Red, Orange, Green & Hard Ball players. All competitions run on a term basis in a team format. Learning the basic rules of match play in a weekly environment at convenient Northern Beaches locations add greatly to the fast tracking of a players development. 
Please click your nearest location below for further details on upcoming junior competitions or contact Coaching Director Scott Fletcher on 02 9971 0644
Thursday Social Tennis 
Social tennis with varying standards
Price: $10.00 per session
Location: Careel Bay Tennis Club
Time: 9am to 11.30am Every Thursday 
SATURDAY BADGE COMPETITION 
4 Men or 4 Women – 8 sets of Doubles 
Summer & Winter Compeitions, prices vary depending on length of Comp
Location- Kooroora Tennis Club, Careel Bay & Collaroy Tennis Club 
There is a large range of Competitions available across our sites that run via the Associations. To enter into any one of the competitions above simply email evolvetennis@evolvetennisacademy.com or contact Coaching Director Scott Fletcher on 02 9971 0644
Tennis Australia Tournament Calendar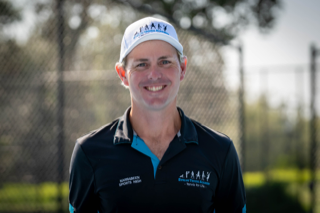 Director of Evolve Tennis Academy
Scott Fletcher comes as one of the most highly qualified Tennis Coaches in Australia. Predominantly working with hotshot players aged 8-12yrs old, Scott is one of very few coaches to hold a Master Professional Certification with ATPCA as well as Master Club Professional Certification with Tennis Australia.