Northern Beaches

Tennis Coaching & Kids Holiday Camps
Northern Beaches Tennis Courts
Evolve Tennis Academy offers the best equipment for tennis players of all levels. The Tennis Courts in the North Shore are nestled within spectacular natural settings in one of Australia's most attractive areas, providing a unique and immersive experience for players and spectators.
At Evolve Tennis Academy, we take great pleasure in our dedication to offering our customers tennis courts and coaching services of the greatest calibre. Whether players are novices or seasoned pros, our staff of knowledgeable trainers is committed to assisting them in honing their abilities and achieving their objectives.
Tennis Court Hire Northern Beaches
If you enjoy playing tennis and seek a venue, consider hiring a court in Northern Beaches. Doing so has several advantages, including:
Play on Your Schedule: When renting a tennis court, you may play anytime. You don't have to stress about trying to cram a game between other players or finding an open court. Alternatively, you may book a court at a convenient time for you and your playing partner(s).
Exceptional Facilities:

Most tennis courts for rent are well-maintained and outfitted with everything you need to play a successful game. This covers high-quality court surfaces, netting, and even nighttime lighting. You'll have a better playing experience than on an unmaintained public court.

Cost-Effective:

Renting a tennis court is frequently more affordable than purchasing your own court or joining a club. You pay for the time you spend playing, which is ideal for people who cannot commit to regular club memberships or have limited financial resources.

I

deal for Events:

Tennis courts for rent are great for birthday parties, team-building activities, and business trips. You'll have your private room to enjoy the game and the ability to customise the experience to your preferences.
Don't settle for a mediocre tennis experience. Visit Evolve Tennis Academy today to hire a high-quality tennis court.
Tennis Coaching Northern Beaches
Evolve Tennis Academy in the Northern Beaches provides top-notch coaching services for people looking to enhance their tennis skills. The academy offers individualised teaching geared to individual requirements and goals through a staff of skilled and licensed coaches.
Evolve Tennis Academy's coaches will work with you to develop your abilities, technique, and strategy, whether you are a beginner or an established player. There are several coaching choices, ranging from one-on-one sessions to group clinics.
No matter what you want to work on—groundstrokes, serve, volley, footwork, etc.—our coaches will work with you to determine your strengths and weaknesses and create a coaching program that meets your objectives.
Thus, if you're seeking high-quality tennis instruction on the Northern Beaches, go no further than Evolve Tennis Academy. Our professional and enthusiastic coaching staff is ready to help you take your game to the next level.
Kids Tennis Academy Northern Beaches
Looking for a fun and engaging activity for your child that will help them stay active and develop essential life skills? Consider enrolling them in the Kids Tennis Academy at Evolve Tennis Academy on the Northern Beaches!
Tennis fosters the growth of crucial life skills like determination, problem-solving, and collaboration. Our program is designed to assist your kid not only in developing their tennis abilities but also in creating confidence, resilience, and a good attitude toward obstacles.
We are devoted to providing a safe and supportive environment for your kid to learn and grow at Evolve Tennis Academy. Our coaches are all thoroughly trained and qualified, and our facilities are outfitted with cutting-edge technology to guarantee your child gets the most incredible experience possible.
So why not give your youngster the gift of tennis? Enrol them immediately in the Kids Tennis Academy at the Northern Beaches' Evolve Tennis Academy!
Adult Tennis Lessons Northern Beaches
As much as tennis can be a fun activity for kids, it can also be an engaging and challenging workout for adults.  Tennis is fantastic for increasing your general fitness, strength, and coordination. Also, it's an excellent method to make new friends.
Whether you're a novice or an experienced player, our adult tennis classes at Evolve Tennis Academy Northern Beaches are personalised to match your specific objectives and ability level. The principles of the game, including appropriate methods and strategies, will be explained to you by our knowledgeable coaches.
You may pick between private or group lessons with our flexible class schedules, making incorporating tennis lessons into your hectic schedule simpler. Whether you want to develop your game, compete in competitions, or have fun, our adult tennis classes are ideal.
Age should not be a barrier to enjoying tennis!  Adult tennis classes in the Northern Beaches from Evolve Tennis Academy allow you to acquire new skills, meet new people, and have fun while being active and healthy.
Enhance Your Tennis Skills With Evolve Tennis Academy!
Ready to take your tennis skills to the next level? Look no further than Evolve Tennis Academy! 
Our academies are conveniently located in Wyatt Park, Collaroy, and Narrabeen, and are outfitted with modern technology and equipment to give you the most excellent training experience possible. We'll help you become the greatest player you can be by emphasising skill, strategy, and mental toughness.
Don't wait — sign up now and prepare to evolve your game!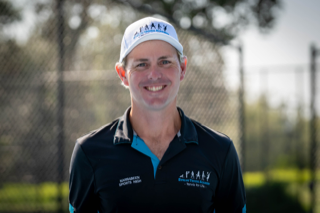 Director of Evolve Tennis Academy
Scott Fletcher comes as one of the most highly qualified Tennis Coaches in Australia. Predominantly working with hotshot players aged 8-12yrs old, Scott is one of very few coaches to hold a Master Professional Certification with ATPCA as well as Master Club Professional Certification with Tennis Australia.