LOCATIONS THAT OFFER THIS PROGRAM
Please Note: All Shuttle Bus Pick Ups for Northern Beaches locations must be booked via email evolvetennis@evolvetennisacademy.com Booking a class does not guarantee a position on the bus is available
Smaller court, racquets & balls that bounce lower… making ANZ Hotshots Tennis just right for kids. The program is fun, safe and it keeps kids moving.
Not only that it teaches kids basic skills that they will use every day and is a PROGRESSIVE learning program that allows children to develop and grow their tennis skills at their own pace.  ANZ Tennis Hot Shots isn't just about learning how to hit a ball, kids are also taught about balance, coordination, teamwork and tactics.
ANZ Tennis Hot Shots is great value – sessions are run by qualified Tennis Coaches in small groups and it introduces kids to a sport that they can play for life.
It is the ONLY Nationally Recognised Tennis Grassroots participation program that is endorsed by Tennis Australia and targets 5 – 12 year olds.  It is also designed to co-exist with other skill development programs – such as the Wilson Pee Wee Program which targets pre-school children, 2 – 5 years of age.
Class durations range from 45mins to 90mins and are dependant on location, age and colour of ball.

We have sessions available Monday to Friday, & Saturday mornings. All classes can be booked online at the above links, alternatively contact Head Office (02)9971-0644 or Coaching Director Scott Fletcher 02 9971 0644 and we'll organise all the details.
Our team of Hotshot Coaches are lead by Evolve Tennis Director of Coaching Scott Fletcher. 
Formerly a Tennis Australia Hotshots Ambassador & founding member of the Junior Hotshots Grandslam series, Scotts expertise & passion help guide all of our Hotshot coaches – ensuring each junior is progressing through all stages of the Hotshot Program.
All of our Hotshot Coaches have extensive playing backgrounds, and are either Tennis Australia or ATPCA qualifed. 
Fast Tracking Your Childs Progress
We currently run one of the largest Hotshot programs in Sydney, and fast tracking your childs development is a major goal for the Evolve Team. Many of our Hotshot players leave the program technically & tactically sound and go on to hold very high State & National Rankings. 

Taking a more serious & dedicated approach as a parent & player will help fast track this process. Extra options available as an aspiring Hotshot player are
TAP – our Talented Athlete Program which is our more advanced Hotshot Program. This will differ from a weekly group lesson in a few areas. Most importantly you will be hitting the courts 3 times per week – 1 Group lesson, 1 Footwork Session & Competition.
Play More – whether this includes booking a court with your family & friends, booking an extra weekly group lesson, or attending holiday camps. Simply getting on court more often will help improve your game.
Tournaments – There are numerous options available across the metropolitian area. We highly recommend all our Hotshot players entering our Super 4s Tournament aswell as the Tennis Northern Beaches Grand-Slam series. Both of these series run on a quarterly basis and provide valuable match play in a round robin format.  
Competition – here at Evolve Tennis Academy we offer weekly competitions for Red, Orange & Green Ball players. All competitions run on a term basis in a team format. Learning the basic rules of match play in a weekly environment at convenient Northern Beaches locations add greatly to the fast tracking of a players development.
Private lessons are a very popular choice at Evolve Tennis Academy. Due to our Coaches high qualifications many of our parents embrace private lessons for their children, knowing that one on one tution is the best opportunity to improve their game from a technical perspective. 
Hotshots Kids Tennis Sydney
Smaller court, balls that bounce lower, and racquets –  just perfect for small kids interested in learning tennis. Evolve Tennis Hotshots Tennis is ideal for kids, making it a one-of-a-kind experience they can truly enjoy. The program is entertaining, secure, and it gets youngsters moving.
A PROGRESSIVE learning program that enables youngsters to strengthen their tennis skills at their rate, it also teaches them fundamental skills they will need every day. Children participating in Evolve Tennis Hot Shots receive ball striking, balance, coordination, teamwork, and tactics instruction.
The Evolve Tennis Hot Shots Tennis Program is a fantastic deal for young children since it introduces them to a lifelong sport while being taught in small groups by trained tennis coaches.
Targeting children aged 5 to 12, it is the ONLY Nationally Recognized Tennis Grassroots Participation Program supported by Tennis Australia. It is also intended to work with other skill-development initiatives, such as the Wilson Pee Wee Program, which serves preschoolers between the ages of 2 and 5.
Kids Tennis Lessons Sydney
Our kids' tennis lessons at Evolve Tennis are ideal for kids of all ages, regardless of their prior tennis experience, with a focus on having fun. Lessons in junior tennis are a fantastic way for your youngster to be active while having fun and making new friends. Tennis classes are available for kids of all ages and skill levels at Evolve Tennis.
Our youth tennis lessons enable young players to hone their abilities in an encouraging setting. Every youngster develops the necessary abilities and is ready to play a game of tennis from the very beginning thanks to innovative teaching techniques and modified equipment.
Our Hotshot tennis program is designed with young players in mind. Technique and play are equally important throughout sessions. Although it is not a requirement, your child will have had some tennis instruction. Classes are for young children starting at 5-years old.
Kids Tennis Academy Sydney
We always make sure that every kids' tennis program participant gets the necessary abilities and can play a game of tennis from the very beginning by utilising cutting-edge teaching methods along with adapted equipment.
Tennis is a terrific sport for youngsters to participate in since it is non-contact, teaches a lot about sportsmanship and fair play, fosters self-confidence and discipline, and is also a ton of fun.
For youngsters, Evolve Tennis offers exciting, cutting-edge junior tennis coaching programs and tennis classes that create a learning pathway for every child. Tennis NSW and Tennis Australia have worked with us to ensure that we provide the best tennis instruction at every tennis club and location we work at!
Tennis Training for Kids aged 5 to 12
Tennis is a good sport ideal for young kids aged 5 to 12. Again, as mentioned above, it is non-contact but allows players to move and practice their motor skills and physical abilities while enjoying some fun time under the sun.
The ideal age range is between 5 and 6 years old, yet everything relies on the knowledge and skills of the child. Children grow in coordination, psychomotor, and socializing throughout this stage. They also have a stronger aptitude for critical attention to adjust to the demands of tennis and the classroom environment.
Children are able to maneuver and grasp a racquet properly at this age. They possess the skills necessary to manipulate the tennis ball's trajectory with the racket, catch the exact moment the racket strikes the ball, etc.
These elements are reinforced throughout tennis lessons with trained tennis instructors, which aids a child's physical and mental growth.
Evolve Tennis is excited to welcome you to our team. Contact us today to learn more about our adult and children lessons or to book a training session with us.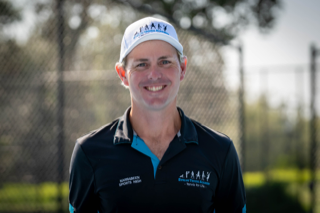 Director of Evolve Tennis Academy
Scott Fletcher comes as one of the most highly qualified Tennis Coaches in Australia. Predominantly working with hotshot players aged 8-12yrs old, Scott is one of very few coaches to hold a Master Professional Certification with ATPCA as well as Master Club Professional Certification with Tennis Australia.