LOCATIONS THAT OFFER THIS PROGRAM
Wilson Pee Wee Tennis is our super popular starter program for 2-5 year olds – which is a great introduction to tennis. It helps preschoolers develop those all important gross motor skills which will help prepare them for those busy developmental years ahead of them and progressively ensures they are ready for the next level of their tennis development – The HOTSHOTS Program.
Introducing your children early on to tennis ensures they learn key skills and develop a love of the game from a young age. Our progressive program is designed to allow your child to 'grow with the game' at his or her own pace – and we offer classes that are tailored to develop, support and challenge your child from Pee Wee to Juniors to Teens to Adulthood.
This fantastic launchpad program has been designed to cater for the following age groups:
2 to 3 year olds – Pee Wee "Minis" Program
4 to 5 year olds – Pee Wee Program
BIG CLASSES – NO WAY!!! – Maximum of 4 children per class, which ensures more hands-on time per child, enabling them to learn at a much faster pace.
The program ensures to grow those essential gross motor skills and the following capabilities are also developed and encouraged;
Foundational and fundamental tennis playing skills
Group environment develops social skills of the child
The program has been running successfully for the past 8 years with 150+ students – many of whom have chosen to move through to the more advanced stages of our coaching program (HOTSHOTS) once attending school.
Each child will receive a FREE Tennis Racket!!!
LIMITED TIME ONLY- BRING A FRIEND AND YOU WILL BOTH RECEIVE A 25% DISCOUNT ON YOUR FEE!!!!
Each session runs for 30 minutes in duration and we have sessions available Monday to Friday during school hours, & Sunday Mornings. New session times also available if you have a class of four ready to go, simply contact Head Office (02)9971-0644 or Coaching Director Scott Fletcher 02 9971 0644 and we'll organise all the details.
Our qualified and highly skilled coaches share a combined tennis coaching and playing experience of over 200+ years.

They possess backgrounds that have taught and dealt with a diverse range of children of all ages and some of their qualifications include Personal Training, Fitness coaching, TA & ATPCA Coaching quals and Senior First Aid to name but a few.

DON'T MISS OUT – BOOK ONLINE NOW!!! Spaces Fill Fast!!!
Pee Wee Youth Tennis Sydney
Wilson Pee Wee Tennis by Evolve Tennis is our wildly popular beginner program for kids aged 2 to 5, is a wonderful way to introduce them to the game of tennis. It aids young children in acquiring the crucial gross motor skills that will help them prepare for the demanding developmental years ahead of them and gradually guarantees that they are prepared for the next stage of their tennis training—The HOTSHOTS Program.
By introducing your kids to tennis at a young age, you can ensure that they pick up important skills and grow to love the sport. We offer lessons geared to help your child develop, support, and be challenged from Pee Wee to Juniors to Teens as part of our progressive curriculum, which is intended to let your child "grow with the game" at his or her speed.
Tennis Lessons for Kids Aged 2 to 5 Years Old
Some children may be too young to participate in this sport. Without a doubt. The moment a child expresses an interest in tennis is the perfect time to help them develop that desire. Your two-year-old may start playing tennis now because kid-friendly gear like balls and racquets are readily available thanks to modern technologies.
How can I introduce tennis to my two-year-old? Bouncing about a few tennis balls might be the initial step in teaching children how to play the game. Make sure the kids use rackets that are appropriate for their size, not adult-sized ones. Take your young players to court or a park, and throw some balls at them softly. See whether they can use the racket to strike the balls.
Or better yet, enrol them here at Evolve Tennis Academy. We can add more fun to their tennis lessons while ensuring that they adapt the right basics for the game. There are plenty of kids and young children they can meet and enjoy playing with too. Even if your child isn't yet developing the abilities necessary to be successful on the court, it's never too early to become familiar with the sport.
Pee Wee Tennis Academy Sydney
This amazing launchpad program caters for the following age groups:
Children aged 2 to 3: Pee Wee "Minis" Program
Children aged 4 to 5: Pee Wee Program
Maximum 4 students per session guarantees that each student gets more hands-on experience, which helps them absorb material much more quickly.
The curriculum makes sure to develop those crucial gross motor skills and encourages the development of the following abilities as well:
Tennis fundamentals and foundational techniques
Children's social skills grow in groups.
With more than 150 participants, the program has been running successfully for the past eight years. Once they started attending school, many of the kids elected to continue to the more difficult levels of our coaching program (HOTSHOTS).
Pee Wee Tennis Classes Sydney
With our Pee Wee Tennis lessons, your child may have fun while learning the fundamentals of tennis. Our program provides your little tennis pro with a stimulating introduction to the sport in a situation that is ideal for their learning style. Here you'll find a program that will keep your child motivated and interested while actually enjoying an introduction to tennis, with instructors that consistently make that extra effort that is so crucial to teach young children the principles of the game.
To ensure that our Pee Wee pupils learn at their level, we modify the equipment. We teach your youngster the fundamentals using smaller racquets and low-compression red balls. We ensure they learn the fundamentals in a comfortable setting, from strokes and movements to the motor abilities they will need to advance as they grow. Our objective is to continuously foster and grow their enthusiasm in the sport.
Our licensed and expert tennis instructors have more than 200 years of combined playing and coaching experience.
Their experiences include working with children of all ages and teaching them, and some of their certifications include Senior First Aid, Personal Training, Fitness Coaching, and TA & ATPCA Coaching Qualifications.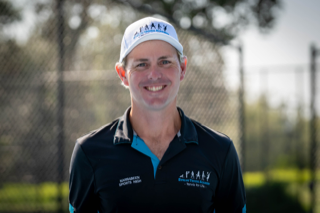 Director of Evolve Tennis Academy
Scott Fletcher comes as one of the most highly qualified Tennis Coaches in Australia. Predominantly working with hotshot players aged 8-12yrs old, Scott is one of very few coaches to hold a Master Professional Certification with ATPCA as well as Master Club Professional Certification with Tennis Australia.