Tennis Courts & Programs Sydney
Book your class online below, or contact us now and we'll get you on court improving your game asap.
We are your Number One Tennis Destination for Coaching, Court Hire, & Competitions in Northern Sydney, NSW Australia.

Tennis is our Life at Evolve Tennis Academy, and this passion is evident amongst our Highly Qualified Coaching Team & support staff. Our team consists of more Level 3 Tennis Coaches than any other coaching business in Australia. So when you beccome part of the Evolve family, you can guarantee you are in Qualified hands.

We currently coach over 2600 players weekly, ranging from juniors competing at National level, National Veterans Champions and your grassroot Hotshots Champions. No matter what your tennis aspirations might be, we have a program for you.
WHAT YOU CAN EXPECT WHEN SIGNING UP TO EVOLVE TENNIS ACADEMY
EXPERIENCED COACHES DELIVERING REAL RESULTS
At Evolve Tennis Academy we differ from the Competition by providing High Quality Players & Qualified Coaches with a combined playing/coaching experience of 200+ years, all eager and ready to improve your tennis game today.

Our Coaching Team hold numerous Qualifications from Tennis Australia (TA) and Australian Tennis Professional Coaches Association (ATPCA) and we currently boast more Level 3 Coaches than any other coaching business in the country, all of whom have competed Nationally or Internationally

What are you waiting for, make a booking now and watch your game EVOLVE…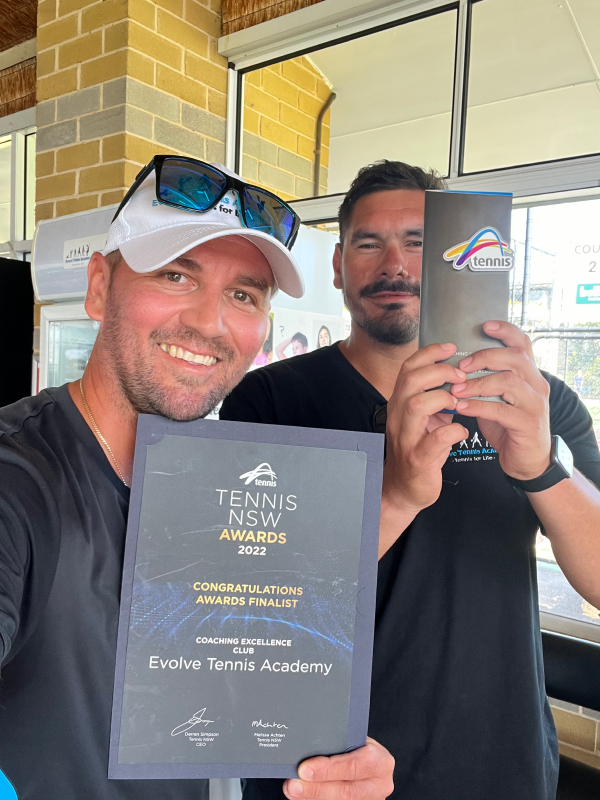 Evolve Tennis Academy: Unlock Your Tennis Potential in Sydney
Hidden amidst the urban heartbeat of Northern Sydney lies the Evolve Tennis Academy, a premier establishment renowned as the leading tennis academy in Sydney has to offer. Not merely another sports facility, we're the vanguard of tennis coaching, proudly standing as the apex tennis destination for court hire, competitions, and unmatched coaching in NSW, Australia.
Our reputation isn't just based on numbers, though they speak volumes. With a team that boasts more Level 3 Tennis Coaches than any other outfit in Australia, we've curated a rich tapestry of expertise and experience that serves our growing family of 2600 players weekly. From fervent juniors eyeing national championships to the passionate grassroots Hotshots Champions, every game here at Evolve resonates with our ethos that tennis is a journey of discipline and spirit.
Discover the Best Tennis Coaching in Sydney at Evolve Tennis Academy
Navigating the realm of tennis coaching in Sydney can be a daunting maze, littered with questions, hesitations, and the ever-present quest for value and trust. Your problem ends with Evolve Tennis Academy. We're not just another tennis coaching facility; we're a beacon of excellence and trust in the heart of Sydney.
Understanding the challenges of beginners is our forte. Where to start, Concerns about costs and ensuring quality of service are valid apprehensions, but with Evolve Tennis Academy, they're addressed before they arise. Our 'Tennis For Life' philosophy ensures an unwavering commitment to every player, both on and off the court.
Our core values – competition, role modelling, and teamwork – underpin every session.
At Evolve Tennis Academy, we emphasise integrity and hard work, teaching our players that the journey matters most regardless of the outcome. Our dedicated team, more than just coaches, becomes your personal tennis family, guiding and supporting your growth.
Elevate Your Game with Professional Tennis Training in Sydney
Nestled within the scenic Northern Beaches of Sydney, Evolve Tennis Academy is more than just a tennis facility – it's a haven for tennis enthusiasts, learners, and champions in the making. Tennis is not merely a sport for us; it's a life passion that courses through every serve, every volley, and every game. Through commitment, passion, and dedication, we've created a unique space where potential meets professionalism and dreams blend with dedication.
We've moulded our services to cater to everyone, irrespective of their level or background, ensuring that your aspirations for tennis training in Sydney are perfectly met.
Our pledge to our patrons is simple: quality services at competitive prices. When you step onto our courts, you're not just another player but part of our ever-growing Evolve family. A family that takes pride in promoting tennis's growth at every level. You can rest easy knowing every coach at Evolve is qualified with either TA (Tennis Australia) or ATPCA (Australian Tennis Professionals Coaching Association). This ensures that every serve, swing, and step you take is guided by some of the best in the business.
So, if you're in Sydney and dreaming of elevating your game, seeking efficient tennis training sessions, or simply want a trusted place to start your tennis journey, look no further. At Evolve Tennis Academy, we promise not just lessons but transformative experiences. 
Join our Tennis Classes in Sydney and Master the Sport
Discovering a trusted pathway to unleash your tennis prowess can often be challenging. With numerous options, how do you determine which academy in Sydney truly stands out? If you're in this very spot, searching for top-notch tennis classes in Sydney, then Evolve Tennis Academy is where your quest concludes.
Sydney's vibrant tennis community deserves an academy that offers more than just coaching – an academy that builds trust focuses on individual growth, and instils values that stay with you on and off the court. At Evolve Tennis Academy, we combine premier coaching with an ethos that truly sets us apart.
Here's why our tennis classes should be your pick:
Accredited Excellence:

Our team consists of qualified tennis coaches who not only bear the technical expertise but also uphold all mandatory qualifications – including WWC, Coaches Insurance with Sports Cover, and Senior First Aid training for head coaches. This ensures you're under the guidance of Sydney's best and safest hands.

Variety in Programs:

Whether you're taking your initial steps with a racket, an adult looking to rejuvenate your passion for the sport, or someone with special needs – we've got a program tailored for you. There's something for everyone, from

Pee Wee Tennis

,

Hotshots

, and

Mini Champions

to our

Competitive

and

Adults Programs

.

Competitive Spirit:

We hold weekly competitions ranging from Red Ball to Seniors, fostering a spirit of competition that aligns with one of our core values. We promote the values of aspiring for excellence and competing with determination, ensuring every player gives their fullest, irrespective of the outcome.

Commitment Beyond Coaching:

'Tennis For Life' isn't just a tagline. It's our commitment. Our vision goes beyond teaching forehands and backhands. We're here to be your companions in your tennis journey, ensuring you remain committed on and off the court.

Family First:

At Evolve Tennis Academy, you become part of a family when you join. A community that pushes, motivates, and supports each other.

Integrity & Teamwork:

We understand the power of role models, and we lead by example. Playing by the rules, showcasing integrity, and promoting teamwork are integral aspects of our academy's ethos.
Understanding the nuances and intricacies of tennis is a journey. It's a sport that demands time, patience, and dedication. But with the right guidance, the journey becomes less daunting and more enjoyable. 
Experience Excellence in Tennis Coaching at Evolve Tennis Academy
In the vibrant heart of Sydney, Evolve Tennis Academy stands as a beacon for those eager to master the sport. As the city's premier tennis coaching hub, we're not just another institution; we're a promise to every aspirant of the game. With a profound commitment to honing your skills, we embody the spirit of excellence, making tennis coaching in Sydney an unparalleled experience.
Diving deep into the game's nuances, our approach goes beyond just techniques. It's about cultivating a mindset, nurturing passion, and fostering a love for tennis that lasts a lifetime. We understand that tennis enthusiasts seek more than just guidance; they seek transformation. Whether you're beginning your journey or refining your game, you're not just playing but evolving with us.
As Sydney's trusted
tennis academy
, our reputation speaks for itself. But don't just take our word for it. Experience firsthand what makes our tennis coaching Sydney's best-kept secret.
Enhance Your Skills with Top-notch Tennis Training in Sydney
Are you determined to elevate your game? At Evolve Tennis Academy, we offer unparalleled tennis training in Sydney tailored to individual aspirations and goals. Every stroke, serve, and volley are opportunities to surpass yourself, and with our expert trainers, you're poised to do just that.
Stepping onto the court at Evolve means entering a world of opportunity. Our holistic approach blends tactical, technical know-how with the play-and-stay competition format. This perfect amalgamation ensures you not only understand the game but feel it. It's more than just training; it's a journey of self-discovery through the lens of tennis.
What truly sets our tennis training in Sydney apart is our commitment to fostering an environment of growth. From timely report cards for our pee wee & hotshot students to our intuitive Live APP with exciting features, we keep you informed, engaged, and motivated. Because at Evolve, we believe that growth is continuous.
Choose us, and together let's unlock your tennis potential, making every match a testament to your progress. With Evolve Tennis Academy, excellence isn't just a goal; it's a guarantee.
Evolve with Excellence: Your Tennis Journey Awaits
Unlock your true potential on the court with Evolve Tennis Academy. Dive into a world where passion meets precision, where every lesson is a fusion of tactical prowess and technical expertise. 
With us, tennis isn't just a sport—it's a transformative journey tailored to your unique aspirations. Our dedicated coaches, state-of-the-art facilities, and community of passionate players make every training session a step toward excellence. 
Beyond techniques and tactics, we instil teamwork, integrity, and unwavering determination values. 
Be a part of the Evolve family – where tennis dreams take flight and every serve, stroke, and volley is a testament to your growth and commitment. 
It's time to evolve with the best.
Join us
, and let's make every match memorable!
We have everything you could imagine in five convenient locations
Looking for something else tennis related?

We can also order any other tennis equipment you need at competitive prices
Tennis Academy Sydney
Learn world-class tennis from the best. Here at Evolve Tennis, everyone is welcome to play. Players of all skill levels can take classes at Evolve Tennis, where qualified, experienced teachers offer specialized programs. In Sydney, Australia, Evolve Tennis enjoys providing the game of tennis to surrounding suburbs. Our team guarantees fun while introducing this fantastic game to everyone in our state and everywhere in Sydney. Featuring special coaches, entertaining activities, cardio exercises, and much more, who would have thought learning tennis could be so much fun?
Tennis Programs Sydney
Evolve Tennis offers a wide collection of tennis programs perfect for your time, budget, and preference. You can choose what works best for you. Our professional coaches find ways to simultaneously make the experience extra fulfilling and enjoyable.
Holiday Camps
A collaboration between Evolve Tennis Academy and Game Ready Football presents the most thrilling grassroots school holiday camps in Northern Sydney.
Our team of committed coaches in both sports strives to provide an experience unlike any other, providing a structured program essential for giving your children access to a high-quality selection of tennis and football activities they will want to participate in every school break. It's fun and learning all rolled into one great summer experience.
Adult Tennis Programs
At Evolve Tennis Academy, we offer a wide variety of Adult Programs that can accommodate players of all skill levels. We have everything you're searching for, whether it's a weekly social group or a Cardio Tennis Class that raises your heart rate. 
Even though it's ideal for beginners, more advanced tennis players will enjoy themselves because your coach is trained to mix up the activities to cater to all skill and fitness levels. Due to the popularity of Evolve Tennis Academy, we also provide a wide variety of classes for beginners to advanced players. You'll find something perfect for your time and budget here at Evolve.
Private Coaching
One-on-one private instruction is one of the most well-known strategies to accelerate your tennis progress. Individualised attention is a very efficient technique to promote your technical advancement as a player, whether junior or senior, beginner or advanced.
We strongly advise our clients to invest in private instruction with our knowledgeable, experienced coaches and former tour players to assist you gain a competitive edge.
Tennis Coaching Sydney
Young players' essential abilities and techniques are developed through individualised programs and coaching sessions. The intermediate course's goal is to further develop the kids' match play, physical fitness, and technique.
Children will be divided into various groups, utilising equipment adjusted for their skill level.
Are you searching for the top tennis coaching Sydney has to offer? The leading tennis coaching organisation in Sydney, Evolve Tennis, has worked with Australian professional tennis organisations to provide players of all ages and skill levels with high-quality and reasonably priced tennis coaching programs and courses. Our programs are enjoyable, welcoming, creative, and convenient.
Tennis Court Hire Sydney
Looking for a place to practice tennis Evolve Tennis has something for you. We have courts located in Collaroy, Wyatt Park, Careel Bay, and Roseville.
Collaroy
The Collaroy court features six tennis courts of championship size (5 synthetic grass and 1 cushioned acrylic), floodlit with a large clubhouse with showers and change rooms. 
Parking on-site is available, with shuttle services available every afternoon.  A BBQ facility, an outpost coffee shop, and a fully stocked tennis shop is also located onsite.
Wyatt Park
Wyatt Park tennis center in Belrose features 4-championship-sized synthetic grass tennis courts, a clubhouse with a change room, on-site parking, and a tennis pro shop. Shuttle buses are available in the morning and afternoon.
Careel Bay
Careel Bay Tennis Club in Hitchcock Park, Barrenjoey Rd – Avalon Beach NSW, 2107 features 5-champion sized courts with synthetic grass, a large clubhouse with change rooms, and on-site parking.  A coffee shop is located directly across the road. Shuttle buses are available every afternoon.
Roseville
Roseville Park features 7 championship courts – 4 of which feature synthetic grass flooring and three hard courts. A BBq facility and a large clubhouse are featured in the area. Goods and refreshments can be enjoyed at the coffee shop, tennis pro shop and restaurant, all located on-site.