ROSEVILLE PARK

TENNIS COURTS
ROSEVILLE PARK TENNIS COURT HIRE
7 Championship Sized Tennis Courts (4 Sythetic Grass + 3 Hardcourt)
3 Courts Floodlit
BBQ Facility
Large Clubhouse with toilets
On-site Parking + Shuttle Bus every afternoon
Tennis Pro-shop goods available
7 Championship Sized Tennis Courts (4 Sythetic Grass + 3 Hardcourt)
3 Courts Floodlit
BBQ Facility
Large Clubhouse with toilets
On-site Parking + Shuttle Bus every afternoon
Tennis Pro-shop goods available
Roseville Park Tennis Club enlists the Coaching Services of Evolve Tennis Academy. To book a class/squad online or view the weekly timetable simply click your desired program below or contact Facility Director Scott Fletcher on
02 9971 0644
(Note: High Performance Coaches Pricing may vary)
Shuttle Bus & Supervision
Evolve Tennis Academy offers a Shuttle Bus service from all the local schools around Roseville.
We pick up at the end of the school day and drive the students to the Tennis Club, where they partipate in Hotshot classes or squads. Supervision is also available till 5.30pm to save parents rushing for pick up. 
To see a list of available pick up locations and days, please click the link above
Please be aware, there is limited spaces available and they fill fast – so get in quick.
Multi-Sport Holiday Camp Bookings
Our Multi-sport Camps are your number one destination on the Northern Beaches come the school holidays.
We cater for more children at Evolve Tennis Academy than any other location on the beaches and it comes as no surprise considering whats on offer.
Tennis is a popular sport in Australia, with young and older people enjoying the game. There are many reasons why Australians love tennis, including the fact that it is a great way to get exercise, a social sport, and a challenging and rewarding game.
Private tennis lessons are the best option for Australians who want to make the most of their talents and skills in tennis. Private lessons allow students to receive individual attention from a qualified instructor, which can help them to improve their technique and develop their game. In addition, private lessons can be tailored to the individual student's needs and goals, which can help them to reach their full potential.
If you want to learn more about tennis or take private tennis lessons, many resources are available online and in your local community. You can also contact your local tennis club or association for more information.
Here are some of the benefits of taking private tennis lessons:
Receive individual attention from a qualified instructor.
The instructor can tailor the lessons to your individual needs and goals.
Improve your technique and develop your game more quickly.
Opportunity to practice with other players of your level.
Learn the proper etiquette and rules of the game.
Have fun and make new friends.
Private tennis coaching and lessons are the best options if you are serious about improving your tennis game.
Private Tennis Coaching Roseville
---
Evolve Tennis Academy is your premier destination for private tennis coaching in Roseville. If you want personalised attention and accelerated improvement in your tennis game, our coaching services are tailored to meet your specific needs and goals.
Why Choose Private Tennis Coaching with Evolve Tennis Academy?
---
Individualised Attention: With private coaching, you'll receive one-on-one attention from our experienced and certified coaches. We will assess your current skill level, identify areas for improvement, and create a personalised training plan to help you reach your full potential. Whether you're a beginner or an advanced player, our coaches will provide targeted instruction to address your unique needs.
Customised Training: Our private coaching sessions are designed to focus on your specific goals and areas of improvement. Whether you want to refine your technique, enhance your footwork, improve your strategy, or work on the game's mental aspects, our coaches will tailor the training to suit your requirements. This personalised approach ensures that you progress significantly in the areas most matter.
Flexibility and Convenience: Private coaching offers flexibility in scheduling sessions to fit your busy lifestyle. You can choose the frequency and duration of your lessons, allowing you to optimise your training around your other commitments. Our coaches will work with you to find the best schedule, ensuring convenience and maximising your training time.
Accelerated Progress: Private coaching provides focused attention and immediate feedback from our coaches. Our expertise and guidance allow you to correct technical flaws, refine your skills, and quickly overcome challenges. The intensive nature of private coaching allows for faster progress and helps you achieve your goals in a shorter time frame.
Confidence and Mentoring: Private coaching strengthens your tennis skills and boosts your confidence on the court. Our coaches will motivate and support you throughout your tennis journey, acting as mentors and helping you develop a winning mindset. With their guidance, you'll gain the self-assurance needed to excel in matches and tournaments.
Take the next step in your tennis development with private coaching at Evolve Tennis Academy in Roseville. Our experienced coaches are committed to helping you reach your tennis goals and unlock your full potential.
Tennis Holiday Camp Roseville
---
Tennis holiday camps are a great way for kids and adults alike to enjoy and learn the sport of tennis. They offer a fun and safe environment where participants can learn new skills, improve their game, and make new friends.
If you want to improve your tennis skills, make new friends, and have a great time, then a tennis holiday camp is the perfect option.
Here are some tips for choosing the right tennis holiday camp for you:
Consider your skill level. Make sure to select a camp appropriate for your experience level.
Look for a camp that offers a variety of activities. This will ensure you have a well-rounded experience and don't get bored.
Read reviews of different camps before making a decision. This will help you get an idea of what other people have experienced.
Contact the camp directly to ask questions. This will allow you to learn more about the camp and ensure it fits you right.
For fun and unforgettable tennis training experiences in Roseville, Evolve Tennis Academy is the best professional tennis coaching team for you. Visit us to learn more about our holiday camp schedules and promotions.
Adult Tennis Lessons Roseville
---
Adult tennis lessons are a great way to learn the game of tennis or strengthen your skills. They are perfect for people of all ages and skill levels, from beginners to advanced players. Evolve Tennis Academy offers a variety of adult tennis lessons and coaching in Roseville. Our experienced and qualified instructors will help you learn the fundamentals of tennis, improve your technique, and have fun playing the game.
Here are some of the benefits of taking adult tennis lessons:
Learn the proper technique for hitting the ball.
Improve your hand-eye coordination.
Get a great workout.
Meet new people and make friends.
If you want a fun and worthwhile way to strengthen your tennis skills, trust Evolve Tennis Academy. Our adult tennis lessons are the perfect way to learn the game or take your skills to the next level.
Call us to schedule an appointment or to learn more about our adult tennis lessons and hot shot tennis coaching in the Roseville area.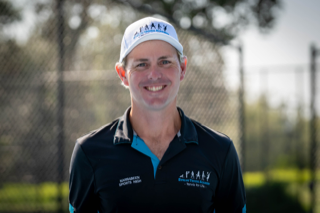 Director of Evolve Tennis Academy
Scott Fletcher comes as one of the most highly qualified Tennis Coaches in Australia. Predominantly working with hotshot players aged 8-12yrs old, Scott is one of very few coaches to hold a Master Professional Certification with ATPCA as well as Master Club Professional Certification with Tennis Australia.