CAREEL BAY TENNIS COURT HIRE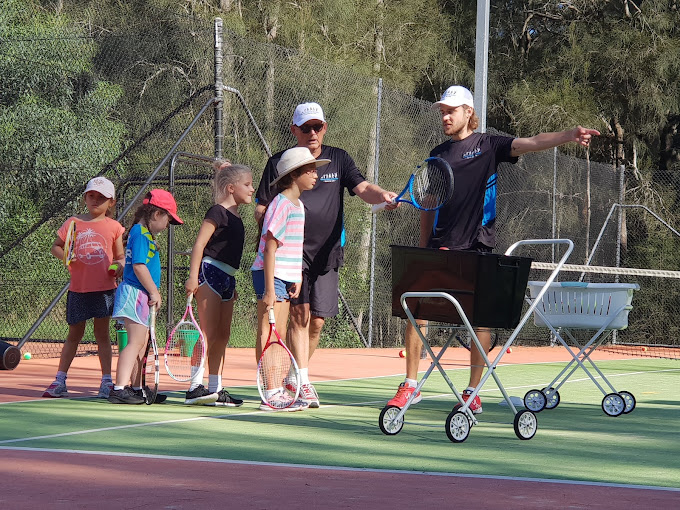 5 Championship Sized Sythetic Grass Tennis Courts
All Courts Floodlit
BBQ Facility
Large Clubhouse with Change-rooms / Showers
On-site Parking + Shuttle Bus every afternoon
Fully Stocked Tennis Pro-shop with light refreshments & drinks
Shop Opening Times : Mon - Fri 9-12noon & 3.30-7pm Saturday 7-12noon & Sunday 8-1pm
Coffee - Cafe Relish directly across road
5 Championship Sized Sythetic Grass Tennis Courts
All Courts Floodlit
BBQ Facility
Large Clubhouse with Change-rooms / Showers
On-site Parking + Shuttle Bus every afternoon
Fully Stocked Tennis Pro-shop with light refreshments & drinks
Shop Opening Times : Mon - Fri 9-12noon & 3.30-7pm Saturday 7-12noon & Sunday 8-1pm
Coffee - Cafe Relish directly across road
Careel Bay Tennis Club enlists the Coaching Services of Evolve Tennis Academy. To book a class/squad online or view the weekly timetable simply click your desired program below or contact Facility Director Scott Browne on
0409-607-703
Shuttle Bus & Supervision
Careel Bay Tennis Club offers a Shuttle Bus service from all the local schools around Avalon, Newport & Bilgola.
We pick up at the end of the school day and drive the students to the Tennis Club, where they partipate in Hotshot classes or squads. Supervision is also available till 5pm to save parents rushing for pick up. 
To see a list of available pick up locations and days, please click the link below
Please be aware, there is limited spaces available and they fill fast – so get in quick.
Multi-Sport Holiday Camp Bookings
Our Multi-sport Camps are your number one destination on the Northern Beaches come the school holidays.
We cater for more children at Evolve Tennis Academy than any other location on the beaches and it comes as no surprise considering whats on offer.
Careel Bay Tennis Club Membership
Careel Bay Tennis Club is always on the look out for new members and if you like tennis and want to join one of the peninsula's great clubs then come and try us out.
Social play takes place all weekends and public holidays between the hours of 2pm and 6pm during daylight saving and 1pm to 5pm during the winter months.
If you seek further information on how the club functions and would like to meet some of the members and participate in a few games of social tennis then please click the link below
Tennis Courts Careel Bay
Careel Bay is reputed to be a well-liked boating location. One of the few remaining original operational boat sheds in Pittwater, the area has distinctive boat sheds and a marine repair business that is steeped in history. It may be easily accessed by boat from Sydney Harbour and is situated at Avalon on Sydney's Northern Beaches, just one hour from the city center.
Careel Bay is home to the Careel Bay Tennis Club, which has five championship-sized synthetic grass tennis courts and boating and natural beauty spots.
Careel Bay Tennis Club provides a shuttle bus service to and from all of the nearby schools in Avalon, Newport, and Bilgola.
After school, we pick the pupils up and transport them to the Tennis Club, where they participate in Hotshot lessons or squads. To save parents from having to rush for pick-up, supervision is also available until 5pm.
Careel Bay Tennis Coaching
Evolve Tennis is a coaching tennis academy focusing on tennis programs, training videos, services, and resources for children and adults to develop and hone their tennis abilities.
Our training camps, programs, and coaching services aim to achieve superior performance results that will assist players, coaches, parents, clubs, businesses, and Federations in evolving for the future. Leaders and coaches must develop their skills to plan, execute, and get extraordinary results successfully.
Players that are committed to improving their tennis can benefit from our coaching. We offer three coaching options to help you keep improving at your game.
You will learn more quickly, team captains will notice you and want you on their squad, and you will be more inclined to practice more frequently, which will also hasten your rate of improvement.
The more senses that may be engaged during the learning process, the more likely you will understand what is being taught. You'll probably comprehend "how" to improve modifications if you can observe yourself hit the serve while the coach is conveying proposed improvements. The disparities would stand out much more clearly if you could see yourself hit the serve while also watching the instructor hit the serve.
You may speed up the process of improving your strokes with our technique analysis services all though our coaching and training programs here are Evolve Tennis.
Careel Bay Tennis Academy 
Tennis matches require players to possess a variety of abilities. Reflex volleys require rapid reflexes, high backhand groundstrokes or volleys require shoulder strength among other muscle groups, and long games or points require enough stamina.
To win, you must also determine your opponent's advantages and disadvantages, including tactically, technically, and physically.
As you might expect, this procedure takes a while. Many people face challenges learning how to videotape customers properly and mastering a challenging sports analysis program.
Along with the time commitment, expensive equipment and high-end software can soon build up, giving the coach further justifications for declining this chance.
Evolve Tennis offers tennis instruction and private coaching services. All levels and ages are welcome for private and group classes. Our specialties include tennis biomechanics corrections and upgrades, playing style enhancement, and singles and doubles training.
Private tennis instruction and training for players of all ages and skill levels is available through Evolve Tennis, a company that can prepare for and support the tennis training needs of every member of the Careel Bay tennis community.
Improve your tennis skills, or simply learn the game as you meet new people and socialize with people who enjoy the same sport as you do. Contact us at Evolve Tennis to start with your tennis journey.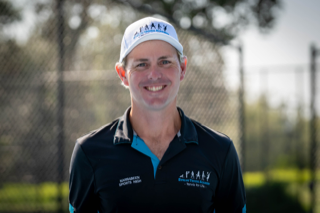 Director of Evolve Tennis Academy
Scott Fletcher comes as one of the most highly qualified Tennis Coaches in Australia. Predominantly working with hotshot players aged 8-12yrs old, Scott is one of very few coaches to hold a Master Professional Certification with ATPCA as well as Master Club Professional Certification with Tennis Australia.